Well, there isn't a lot of sewing going on in my baby's room, but there is SOME, so I figured I would post the progress anyways.
We are days away from going to the hospital to deliver our very first child! My husband and I are both High School teachers, and reading is something we value almost above all other things. Therefore, we both agreed our daughter should have a literary name, and a strong female name at that.
Since we fell in love through a series of Lord of the Rings-related events... we decided that her name will be Eowyn, named after the character who chops off the witch king's head in the Return of the King (so romantic, I know!). :-)
In case you're still confused, she looks like this in the movies. ---------------->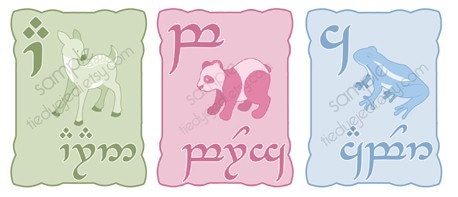 Surprisingly, in the midst of many Star Wars themed nurseries, LotR themed baby items are actually very hard to find.
<------- These Elvish alphabet prints were the only things I found.
Since Eowyn is a human, not an elf, obviously the elvish ABC prints wouldn't quite work. If you disagree, you're obviously not a nerd and this post no longer pertains to you. ;-)
So, in keeping with the Rohan theme (where Eowyn lives) we decided to go with a nature-green color on the walls. I couldn't stand any of the nursery bedding sets out there, so we basically constructed the room and textiles from scratch. Manuel painted the walls a pale green while I avoided the paint fumes.
The one thing I knew I absolutely HAD to have in the nursery was a storybook-themed signpost. I have looked forward to reading aloud to my future children ever since my junior high school days of babysitting and I can just imagine the fun Eowyn and I will have pointing out which direction these amazing lands are located in!
I showed the
Pinterest inspiration image
to my dad, and so he brought in a tall pole with one flat side and helped us mount it to the ceiling with an L-shaped bracket. He had found various boards of different shapes to carve and burn into arrows, zigzags, and fun hands!
I told him to leave the lettering to me as I had very specific fonts I planned on using. I was inspired by the pinterest image, but wanted to include so many more fairytale locations! Thankfully, dad gave me 18 boards to work with. I chose the more worn-down signs for the scary locations like the Forbidden Forest and Sleepy Hollow and the more cutesy signs for places like Oz and Toad Hall.
Then I set up a projector and traced away. I really wish I had a picture of my 8-month pregnant belly on the floor trying to trace out the fonts! Man, it was hard to avoid casting a shadow or laying too much on the baby belly!
After tracing, I used the finest brush I could to mark out the details and serifs of the fonts on there and fill in with more acrylic Apple Barrel paint.
In keeping with the Lord of the Rings theme, I made sure I included Rohan in the list of places, as well as Hobbiton. I also originally had Gondor on the list, but it got cut when I panicked and realized I had neglected to include Camelot! Since that's the only name I could think of that includes a fairytale castle, its importance is evident!
Then, Manuel patiently let me direct him to position and reposition each sign on the post until each was in the perfect spot! My favorite nuance is that Badger's house is on the bottom run, pointing towards the ground. Here are the signposts in order from top to bottom:
What's missing now? BOOKS of course! So, inspired by all those
gutter shelves on Pinterest
, Manuel then nailed baseboards to 6-foot long 1x3 inch boards to create forward-facing bookshelves. We filled them with books we saved from our our childhoods as well as all the amazing books gifted to Eowyn at her baby shower! We have so many that I had to remove some of the more-advanced books to save for later.
Inside the books are handwritten messages to Eowyn either written on the inside cover or onto a bookplate. If two people gifted the same book, I was able to return the duplicates, but still glue both gift bookplates to the inside covers. This way, Eowyn will always know who gave her which books! You can download your own bookplates from
Martha Stewart's website.

Manuel then got inspired to create a little artwork. In the past I had made a canvas by using actual pages from Pride and Prejudice. This time, I happened to have an extra copy of the Return of the King lying around so I helped Manuel by pulling out every page that mentioned Eowyn. He coated a lilac canvas and then made a posterboard collage of those pages. He then projected the horse crest of Rohan onto them. He traced and then cut out the pieces and then used matte Modpodge to secure them to the canvas.
Ta-da! Manuel is considering getting this as a tattoo as well in order to honor little Eowyn.
Can you see Eowyn's name on the horse head?




This is a photo of the in-process garland in my livingroom.
Back during Winter Break, I had made a garland for Eowyn's baby shower based on
Martha Stewart's book shower garland
. I had some cat/heart fabric lying around that I snatched up for $1 a yard a year ago. I just cut it up into roughly 2-inch wide strips and tied them together.
I photocopied all the pages containing Eowyn's name throughout all three LotR books. I then mounted a single sheet onto red printer paper. I also glued a few pages back-to-back and put the double sided pages on top, making sure to create a centimeter-wide spine to really make it look like a book (and give the glue something to stick to).
I also had saved a bunch of greeting cards my coworkers gave me at the work-shower they threw for me, and so I used bits of them in the spaces between the books.
There were some cute knitted booties on one, and some laundry clothes with actual mini-clothespins on another! Perfect!
Her closet and signposts
After the shower, I strung the garland completely around the nursery, overlapping slightly at the edges.
Eowyn has no excuse not to LOVE books, she is absolutely surrounded by them!
MORE GRATUITOUS NURSERY PHOTOS:
Above the crib (that we bought off Craigslist), there is a beautiful textile gifted to me by a friend at the shower. There's also Eowyn's name spelled with a pack of cards I bought from Michael's years ago.
Here's some photos of what you see when you first walk in the nursery door:
At eye-level there's a print of a dog that looks suspiciously like our Basset, Layla. The giant "E" below the art print was made by my cousin Britt for the baby shower.
The headbands next to it were made by the guests at the baby shower. I hand-knitted a ton of little bows (see below!) that people could glue onto headbands along with add buttons, old jewelery and other embellishments.
Along with some knitting, I did do SOME sewing. First of all, I added nearly 20 hand-sewn hearts onto the book garland using some really pretty eyelet fabric:
I also made Eowyn her very first toy, a giraffe rattle with a bell inside. :-)
I'm bringing it to the hospital for photos, just in case!
Well, the hospital bags are packed, and all we need is our little one. Hopefully she'll come this week! I'm so excited!